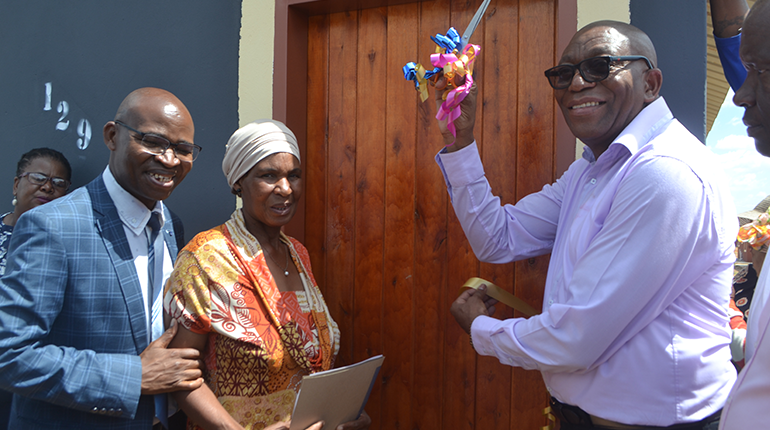 Gauteng MEC for Human Settlements Dikgang Uhuru Moiloa accompanied by Mogale City Executive Mayor Patrick Lipudi, Member of Mayoral Committee for Human Settlements Annah Setswalo-Moja and other Mogale City councillors handed over 50 houses to beneficiaries at a joyful event held in Kagiso Extension 13 as part of President Cyril Ramaphosa's Thuma Mina campaign.
In his address, MEC Moiloa thanked the community of Kagiso for their patience and for giving government the needed time to identify and confirm housing beneficiaries. "I'm happy to be here today to witness as people receive their long-awaited homes. Identifying child headed families and individuals that have been on the housing list has been a lengthy process for both local and provincial government," MEC Moiloa said.
"I would also like to thank the Executive Mayor of Mogale City and his team for their patience and support in making it possible for the provincial government to roll out the delivery of houses to the needy."
MEC Moiloa also discouraged the beneficiaries from selling or renting out these homes which often occurs for income generation after they receive their title deeds.
Roseberry Ndlovu, a pensioner could not hold her joy when Councillor Lipudi and MEC Moiloa handed her the keys to her new house. "I have been waiting for this house for so many years. At least I have a place called home and my kids will now have a roof over the heads. I want to thank Mogale City and Gauteng Provincial Government for listening and responding to our requests," Ndlovu said.
The Executive Mayor said over 100 houses will also be built in the near future and title deeds will also be handed over as soon as the identification process is completed by both provincial and local government. This was not the end of a hectic day for the Executive Mayor and MEC as post this event they headed for Munsieville to where a 500 houses housing development near Sterkfontein Psychiatric Hospital was launched – this addition to Munsieville will be known as Extension 9.
"We are happy because the promise we made to our people is now a reality. Mogale City in partnership with provincial government is putting in a lot of effort in ensuring our people have decent housing," Councillor Lipudi said.
This development is expected to be completed within 9 months.