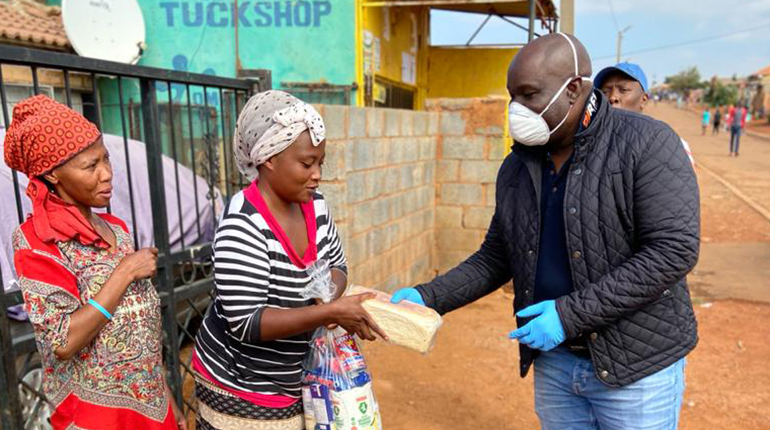 In response to an invitation from Ward 3 Councillor Shabier Dabhelia on behalf of the Azaadville Covid-19 Response Team, Mogale City Local Municipality Executive Mayor and Speaker of Council formed part of a group of stakeholders that handed over food parcels to underprivileged families in Rietvallei.
The community of Azaadville launched a Covid-19 Response Team comprising components in the areas of medical and food supplies, pensioners and the elderly aid to extend a helping hand to the Rietvallei community and further stretched out to immediate neighbours in Rietvalei 2&3.
The response team aims to distribute 1 500 hampers which will see the management of 500 parcels handed out per scheduled distribution. In progression, support will continue to Swanneville, Kagiso and wider areas as the need arises and as these parcels are availed. Distribution is carried out in collaboration with community leaders whilst the management of logistics and process happens under the leadership of local ward councillors.
The Covid-19 Response Team, under the Azaadville community banner has mobilised various organisations for funding and to render key activities and responsibilities during this period. These include sourcing of funding, purchasing essential items, packaging, distribution and logistics.
Mogale City Local Municipality as well as the South African Police Services (SAPS) are support partners to this project. "This will hopefully be an ongoing project if there is a need beyond the 21 days lockdown. We thank the municipality, SAPS and everybody involved as well as the recipients for affording us the opportunity to fulfil our obligations of taking care of their needs", Councillor Dabhelia said.
Related topics: