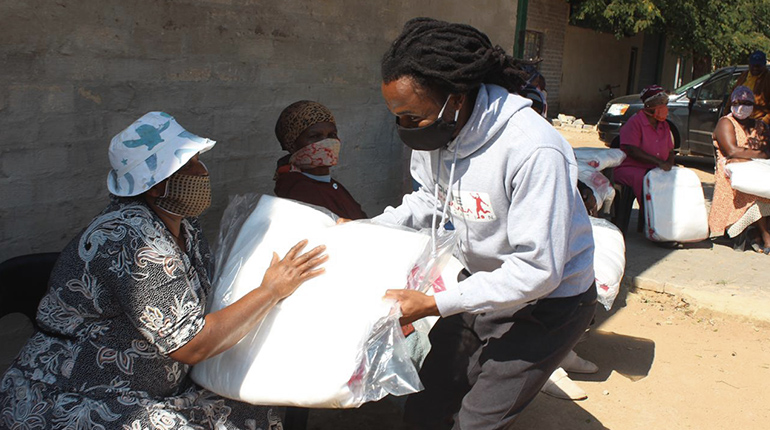 Executive Mayor Francis Makgatho recently visited Ward 33 in Mogale City accompanied by Social Development MMC Evodia Cindi and Siphiwe Tshabalala, one of the country's famous professional footballers. The purpose of the visit was to hand out blankets to Ward 33 senior citizens as the elderly are amongst those most vulnerable and at higher risk of contracting and even succumbing to Covid-19.
Directed by Ward Councillor Ramadi, the team started at Rhinos Plot 7 and moved on to Nooitgedacht Plot 89. This joint initiative was done as part of a Covid Relief Programme in partnership with the Siphiwe Tshabalala Foundation and Bokang Montjane Foundation. The pair extended a helping hand to underprivileged and impoverished communities in the Mogale City area through the provision of food parcels and other essentials such as blankets during this trying time.
Councillor Makgatho urged senior citizens to continue taking precautionary measures and help prevent the spread of the novel coronavirus starting by protecting themselves –  by leaving home only when essential to do so, always wearing a mask in public, keeping to strict hygiene practices and adhering to social distancing.
Through this partnership, the municipality and the foundations will endeavour to continue such relief efforts at a time when our citizens especially those mostly in need, need it most.
 REMEMBER: STAY SAFE, STAY HOME, PROTECT YOURSELF AND OTHERS.