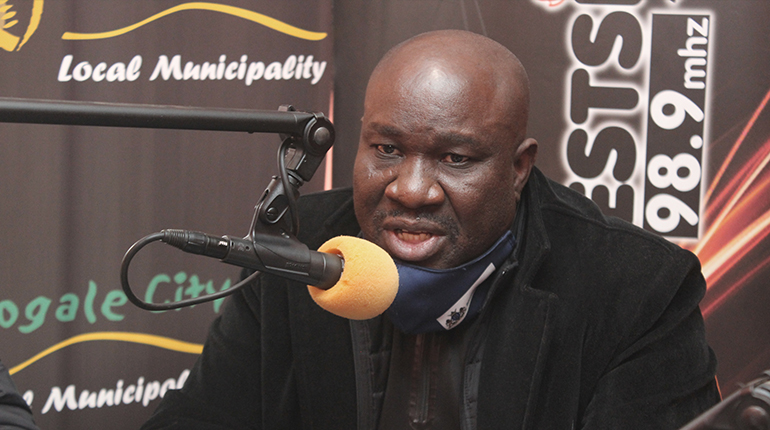 Mogale City Executive Mayor Councillor Francis Makgatho has challenged the youth of Mogale City to be prepared and determined to work hard and go the extra mile to achieve their goals.
With the prohibition of large gatherings due to the Covid-19 pandemic, Mogale City as done by the entire South Africa, for the first time in 25 years, celebrated and commemorated the 44th anniversary of Youth Month virtually and through other means of transmission.
Using radio platform, the Executive Mayor addressed the community of Mogale City through a live show on WestsideFM community radio station. This address formed part of the June 16 Youth Day and the entire month's Youth Month remembrance.
Part of the online address included a dialogue with young people where the guests posed questions to Mogale City's number one citizen on his Youth Day address and issues affecting Youth in the city and surrounds.
In his speech Councillor Makgatho also outlined programmes and projects that the city has lined-up on how they will target opportunities for young people – this therefore confirms that youth development is one of the city's areas of priority for the future.
"As the political head of Mogale City, the City of Human Origins I extend a warm welcome and greetings to all of you. This year's commemoration of June 16 takes place under extraordinary circumstances as our country and the entire globe is faced with an extremely unfriendly scourge, the corona virus known as COVID-19.
I feel honoured today to speak to the youth of the broader West Rand and Mogale City in particular on this very significant day of June 16, celebrated across the country as Youth Day. Whilst educating those of us who may not know and at the same time reminding those who do, today marks the 44th commemoration of the 16th June 1976 Soweto Youth Uprising," Executive Mayor Makgatho said.
Councillor Makgatho added that the celebration of the Youth Day gives Mogale City an opportunity not only to reflect on the events of the past, but presents an opportunity to focus on issues that affect our Youth today and implement long lasting initiatives to empower them for the future.
Programmes that the city has lined-up for youth development range from the recently launched Chamdor Automotive Hub, which aims to expose local SMMEs to modern equipment and techniques of operating their businesses. Other programmes include, the Agricultural Parks, Swaneville Agri Park and Ekasilab. These are youth-centreed and driven programmes, where young people will not only become job creators but also ensure the projects introduce youth into the mainstream local economy of Mogale City, the province of Gauteng and our country.
Councillor Makgatho also touched on the recent spate of gender based violence with great concern and disappointment.
"This very brutality and violence committed on our girl-children, sisters, mothers, grandmothers and all female folk should stop immediately. Women's lifeless bodies are discovered on a daily basis. The violence and femicide cases in our country are at crisis level and therefore as men we should hang our faces in shame, the Executive Mayor concluded."