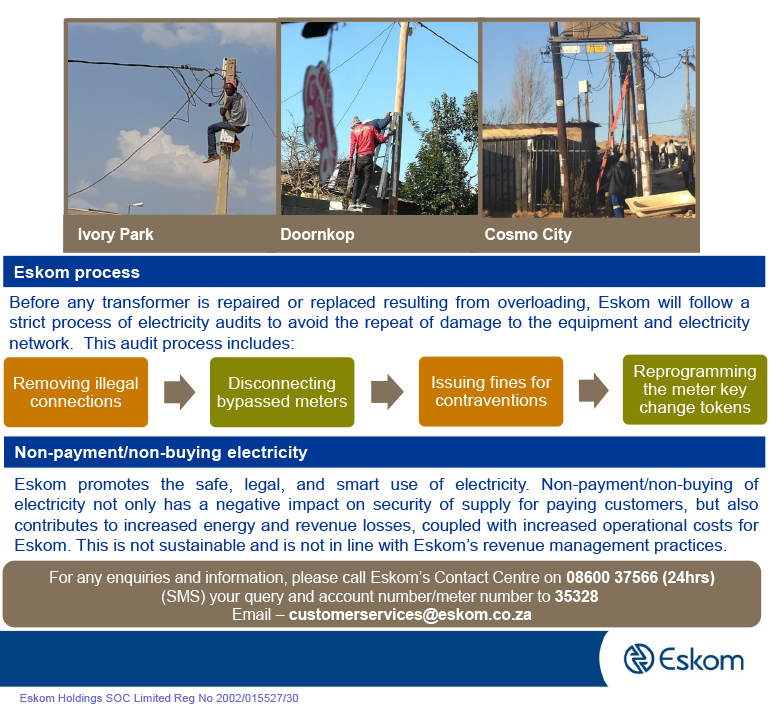 With the increased number of communities across Gauteng bypassing their meters and illegally connecting themselves to the network, there has been a rise in the vandalism of pole mounted transformers and mini-substations, which leads to network overloading and subsequently fail and explode as their protections have been interfered with.
Due to the backlog caused by the high equipment failure, resource constraints coupled with community resistance, it may take up to three months to repair and restore supply after the full audit process is completed. Eskom remains committed to restoring supply in affected areas.
Eskom process
Before any transformer is repaired or replaced resulting from overloading, Eskom will follow a strict process of electricity audits to avoid the repeat of damage to the equipment and electricity network. This audit process includes:
Removing illegal connections
Disconnecting bypassed meters
Issuing fines for contraventions
Programming the meter key change tokens
Non-payment/non-buying electricity
Eskom promotes the safe, legal, and smart use of electricity. Non-payment/non-buying of electricity not only has a negative impact on security of supply for paying customers, but also contributes to increased energy and revenue losses, coupled with increased operational costs for Eskom. This is not sustainable and is not in line with Eskom's revenue management practices.
For any enquiries and information, please call Eskom's Contact Centre on 08600 37566 (24hrs) or (SMS) your query and account number/meter number to 35328. Alternatively, send an email to customerservices@eskom.co.za