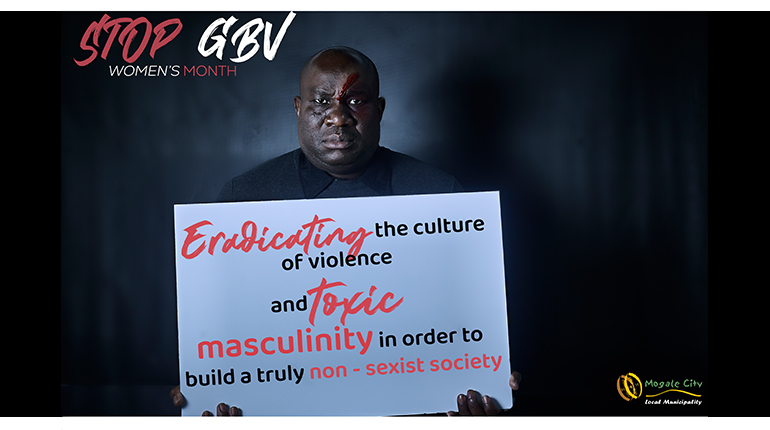 With the month of August marking Women's Month in the country, Mogale City Executive Mayor Francis Makgatho accompanied by Members of the Mayoral Committee  addressed members of the media during a Women's Day GBV campaign at Flamingo Studios in Kagiso.
In his address, Cllr Makgatho said it is important to highlight different challenges that women faced in the past and continue to face today. He went on to point out that women have been and continue to be subjected to domestic violence, sexual harassment particularly in the workplace and many other forms of oppression that were intended to dehumanize and humiliate them.
"Almost on a daily basis we hear or read stories of young women being raped, maimed and killed under horrifying circumstances. We are saddened by the lack of remorse shown my men that inflict pain on innocent women and children. In this campaign we therefore want to call on all men and young boys who will tomorrow be fathers to stand up and defend women," he said.
"While we pay tribute to women many great reasons, we also want to make a plea to all men from all the four corners of South Africa to give a thought to the level of violence meted against women and children."
Guided by this year's theme "Generation Equality; Realizing women's Rights for an equal Future". Councillor Makgatho said Mogale City will embark on various campaigns to highlight the plight of women and children and to be at the forefront of the fight against Gender Based Violence.
The Mogale City Local Municipality will not just use this month as a way to embark on campaigns to contribute in the fight against gender-based-violence, femicide and gender discrimination but also direct people to our Social Development section that can give guidance and advice on GBV and related issues through our Social workers.
In a bid to send the message through to the community of Mogale City, Executive Mayor Cllr Makgatho and his team embarked on a media photoshoot, utilizing special effects make-up to create images that tell a story about the daily challenges faced by women and children.
Adding some flair to the event the Boni and Bike team went on a 40 km cycling ride from Kagiso to Randfontein for this Women's Day celebration and fight against GBV.