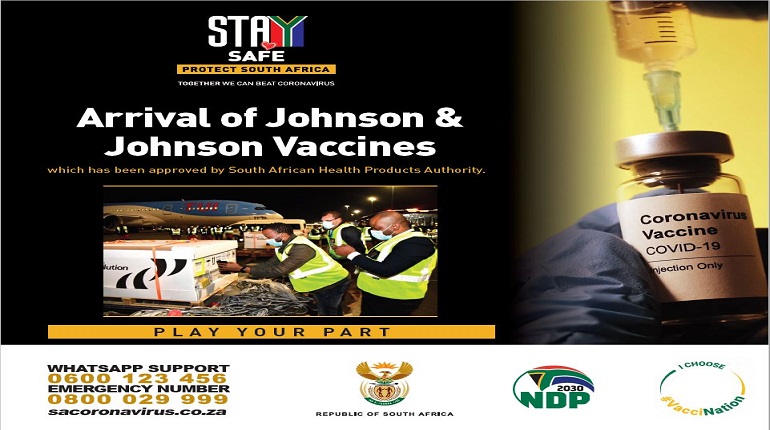 The first batch of the Johnson & Johnson (J&J) Covid-19 vaccine arrived at the O.R. Tambo International Airport on Tuesday night as confirmed by President Cyril Ramaphosa in his State of the Nation address last Thursday.
The J&J vaccine which was approved by the South African Health Authority, is said to have 57% efficiency against the 501Y.V2 variant and is fully protective against serious illness or death from Covid-19. The arrival of the J&J comes after the procurement of AstraZeneca vaccine that was procured for this purpose but showed little efficacy against the 501Y.V2 variant, which is currently dominant in South Africa.
Although the vaccine could be a game changer in the fight against Covid-19, government has noted with concern the growing vaccine hesitancy amongst citizens as a result of misinformation and fake news circulating predominantly on social media. It is for this reason that Health Minister Dr Zweli Mkhize together with President Cyril Ramaphosa joined health workers in Khayelitsha and received their jabs to demonstrate government's confidence in the vaccine.
While government remains committed to saving lives and protecting livelihoods, Mogale City urges every citizen to continue playing their part by sanitizing, wearing a face mask and observing social distance.
"As we have overcome before, we will overcome again and rise" – President Cyril Ramaphosa, SoNA 2021.