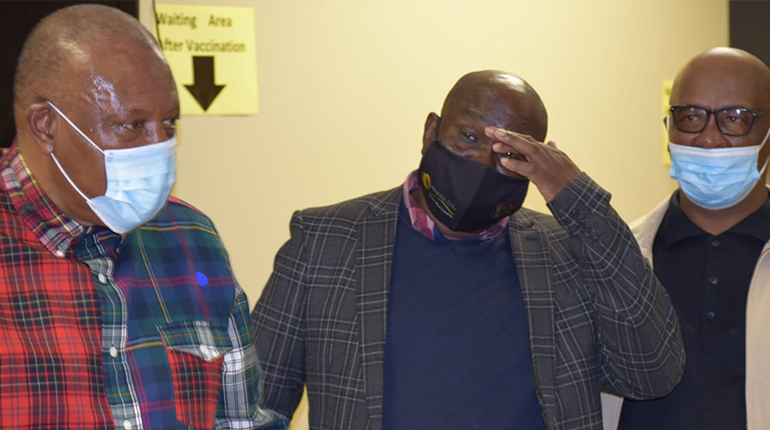 The long wait is finally over for senior citizens across the country! Yesterday 17 May 2021, government launched a mass Phase 2 Covid-19 vaccination rollout at various sites targeted at the elderly and vulnerable groups. Under this phase (1b and 2), registered  and confirmed citizens aged 60 and above as well as other vulnerable groups are eligible to get their jab, while healthcare workers who were not vaccinated during Phase 1 of the rollout may still do so under Phase1B.
Listed as one of Mogale's three vaccination sites, the Munsieville site was graced with the presence and vaccination of Orlando Pirates Football Club Chairman Dr Irvin Khoza. In his brief address, Dr Khoza urged senior citizens of Munsieville, Mogale City and South Africa as a whole to urgently register to get vaccinated and in so doing not only protect themselves but also those they come into contact with.
As Gauteng is officially in a third Covid-19 wave, we strongly urge our elderly residents to get vaccinated once registered and upon having received a confirmation SMS of their registration make their way to one of the following Mogale City vaccination sites conveniently located to them:
Facility name

Address

Operating hours

Leratong Hospital

1 Adcock Street & Randfontein Road

Chamdor, Johannesburg

Monday to Friday

08:30am – 15:00pm

Dr Yusuf Dadoo Hospital

Corner Hospital Road & Memorial Ave

Krugersdorp

Monday to Friday

08:30am – 15:00pm

Munsieville Care for the Aged

Corner Jabulane & Mmogalo Drive

Monday to Friday

08:30am – 15:00pm
Meanwhile, senior citizens that have not registered can still get assistance with their registration by contacting:
It is important to remember that only those that have registered and have received a confirmation SMS of their registration can get vaccinated. 
VACCINES SAVE LIVES: BE SAFE, PROTECT YOURSELF & OTHERS FROM COVID-19