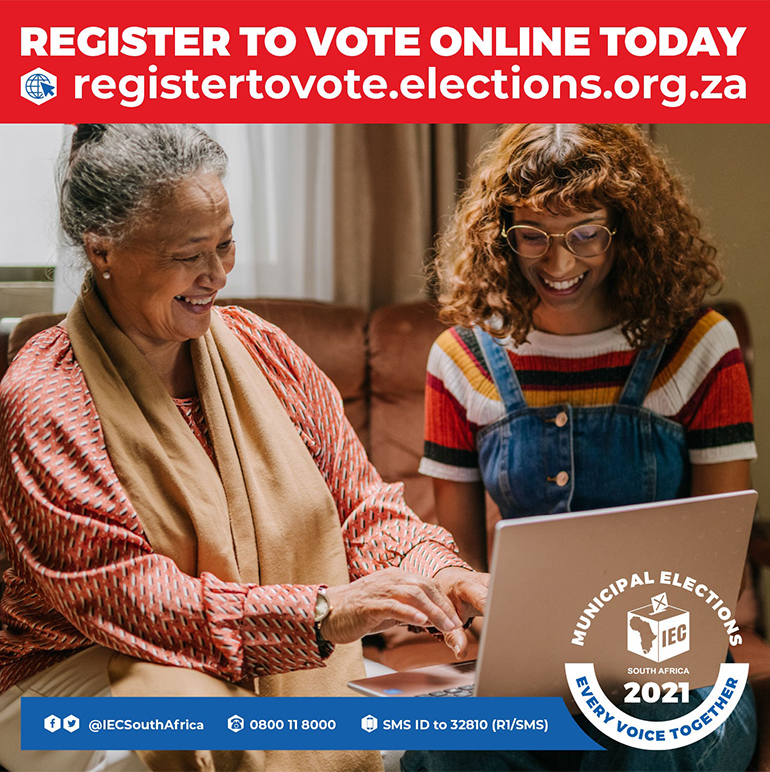 The Electoral Commission on Wednesday, 14 July 2021 launched an online voter registration facility allowing new voters to register and existing voters to update or amend their registration from the ease and convenience of their homes or elsewhere via a computer, smart mobile device or tablet. This forms part of the commission's on-going commitment to provide greater accessibility and convenience to voters.
The online system will utilise a number of security checks to ensure the integrity of the voters' roll. These include the use of a One-Time-Pin (OTP) verification and the submission of a scan or photograph of the voter's ID document. This system complements other existing registration options including on-going voter registration at all local IEC offices and various outreach initiatives including at schools, tertiary education institutions and the general voter registration weekends ahead of elections.
The introduction of an online registration system is also a crucial part of the Electoral Commission's plans to boost voter registration considering the implications of Covid-19 ahead of the Local Government Elections scheduled for 27 October this year.
IEC last week rescheduled its planned voter registration weekend to 31 July – 1 August due to the third wave of the pandemic. All 23 151 voting stations are expected to open between 8am and 5pm over that weekend to help voters register and check their registration details in person.
For online registrations, eligible voters can register in just a few easy steps:
Click "Register to Vote Now"
Enter your personal details
Enter the One-Time Pin sent to your cellphone
Search for your address, or if you are at home, use the current location on your device
Take a photo of your ID OR submit a scan of your ID
You will receive an SMS within 24 hours confirming your successful registration. 
Users who created profiles on "Click, Check, Confirm" platform can use the same login details to access the system.