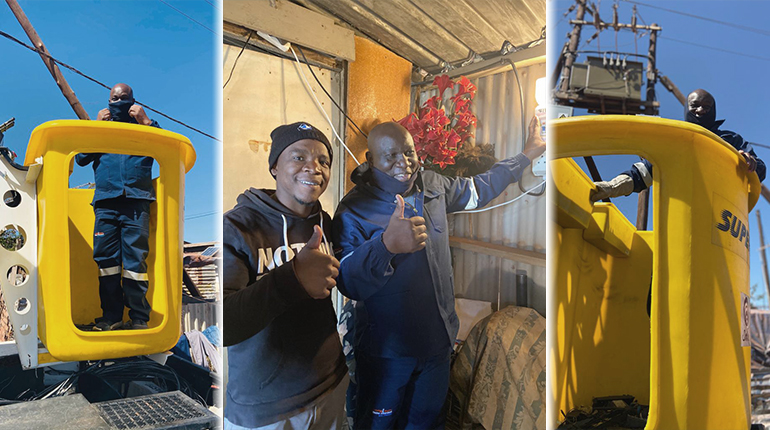 It is no secret that there is a persistent and continued growth in the number of informal settlements across South Africa and Mogale City has not been much different. As a result of no formal electricity supply services in these informal settlements, communities in such dwellings resort to illegally connecting electricity for their households from electrical services provided for neighbouring formal townships without the knowledge of the municipality or Eskom.
This large mushrooming of illegal settlements unfavourably come with a multiplied demand for electricity that results in constant power outages for neighbouring townships with formal electricity as well as overloading of the electricity network grid which more often causes damage to the municipality's electricity infrastructure. 
In Mogale City, Pangoville Informal Settlement was identified and prioritised as one of the major challenging and risky settlements as far as illegal connections was concerned, which in turn unfavourably impacted residents of Munsieville Township. Illegal connections at this informal settlement cost the municipality over R1 500 000.00 for the installation of pole-mounted transformers, replacing transformer fuses and reconfiguration of the network in order to ensure that power supply is restored to Munsieville residents that were without power for over three months.
While addressing the settlement's dire need for electricity in order to urgently curb the power overload, the municipality entered into an agreement with the national Department of Minerals Resources and Energy (DMRE) for funding and implementation of an electrification project for the benefit of Pangoville in line with the Integrated National Electrification Programme (INEP).
Mogale City is pleased to inform residents that the phased project has now drawn to a close – which is great news for the community of Munsieville Township and Pangoville Informal Settlement. Today, over 1 700 households have safe and properly billed electricity which is also supporting the township economy.
For ease of reference, it may be useful to give a little more detail on the phases the project underwent. 
Phase 1
The initial phase started in the fourth quarter of the 2018/2019 financial year whereby an infrastructure required to electrify 64 connections was constructed but was yet to be commissioned.
Phase 2
This phase of the project commenced at the beginning of the 2019/2020 financial year with a commitment to complete 679 household connections. This later increased to 1 080 household connections due to additional funding that was made available by INEP fund. Phase 2 included the commissioning of Phase 1 scope of work and the construction of medium and low voltage (MV and LV) reticulation lines in accordance with the approved design, followed by the installation of transformers, service connections, meters and household distribution ready-boards to complete over 1 060 electrification connections. By the end of August 2010, 1 124 household connections were completed.
Phase 3
Between June 2020 and January 2021, an 11 kV feeder line and its associated switch-gears were constructed and installed respectively in order to increase supply capacity to the informal settlement and Munsieville Township. This final phase was however delayed by a number of challenges such as a delay in the delivery of metering units as well as the management of beneficiaries as the settlement continued to grow.   
Overall, the project was initially allocated R 7 000 000.00 from the INEP fund but a further R 4 000 000.00 was re-allocated from other municipal projects bringing the project cost to R 11 000 000.00. As additional R 6 500 000.00 was further requested from the DMRE consequently increasing the total project cost to an amount of R 17 500 000.00. 
Apart from compliance with our National Energy Regulator Licence which is to ensure electricity access to poor households, Mogale City is making efforts in taking a firm stance towards dealing with illegal connections which not only negatively impacts on public safety, but also municipal revenue and quality electricity supply.