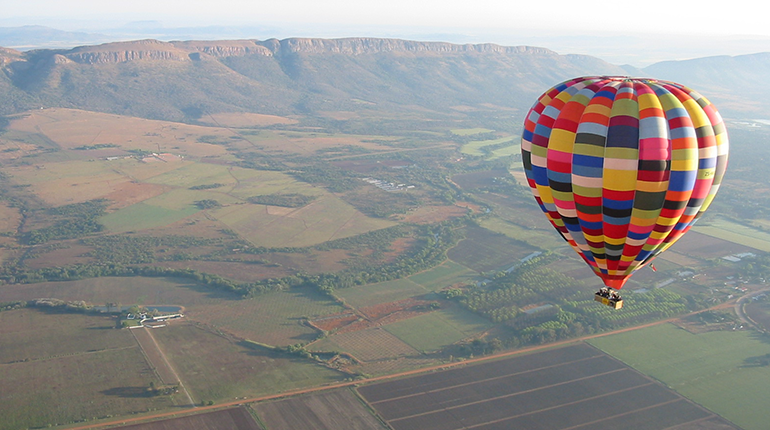 As we transition from a very cold winter season coupled with strict lockdown restrictions into a warm and colourful Spring, most of us are ready to dust off our travel bags and plan our next outing and adventure! What makes the idea of traveling again even more exciting this time around is the increased vaccine acceptance rate across the country which eases a lot of anxiety for many travelers.
South Africa is inarguably one of the most beautiful countries in the world and has so much to offer to everyone – naturally, choosing a travel destination can be quite challenging as there is so much to explore. However, if you are looking for fun, adventure, tranquility, scenic and breathtaking landscapes as well as enjoying the great outdoors then Mogale City is the best place to visit.
For the adventure seekers and action visits
You will certainly enjoy the unique and exciting hot-air ballooning experiences by Bill Harrop or Air Adventures that our city has to offer. This unforgettable journey will get your adrenaline pumping and let you see nature in a different light. Mogale City also offers various fun and safe outdoor activities such as microlight flying, quad biking, river rafting, house riding, bungee jumping and premier cycling routes. From the magnificent wildlife at Askari Lodge to the Rhino and Lion Nature Reserve, the outskirt of our city offers a platter of wildlife wonders at Cradle Moon, Mount Savannah and many other game farms. You can also enjoy game drives that can be either self-drive on tarred roads or guided in open vehicles, environmental hiking trails, game viewing, cave tours, visits to an old Gold Mine, ox-wagon rides, a visit to a children's farm or go camping.
For the inquisitive mind
Now a universally accepted fact that it is the Continent of Africa that is the birthplace and home of our human species, Mogale City boats the Cradle of Humankind World Heritage Site that offers world-class visitor orientation facilities in Maropeng and Sterkfontein Caves visitor facilities.
For tranquility and more
The 52 000 hectare Cradle of Humankind Heritage Site also offers are over 400 diverse tourism offerings, ranging from wining and dining, spending the night, wildlife wonders, a platter of wedding venues, endless views of the Magaliesberg mountain range and much more – all nestled a stone throw away. Accommodation for visitors varies from hotels, B&Bs, guesthouses and lodges, to luxury resorts. There are also the various townships around Mogale City that are always worth visiting. 
For traditionalists
For a genuine African experience, there is Lesedi Cultural Village which is a remarkable fusion of charming, authentic and earthy Africa in the heart of the bushveld. You can enjoy African dishes with lively music and cheerful chatter – a vibrancy that is uniquely African. Learn about the traditional Xhosa, Zulu, Pedi and Setswana cultures, and be entertained by traditional dancers, stories and songs in the living museums of this area – also a perfect outing for teambuilding, societies, stokvels, re-unions and family outings under safe Covid-19 guidelines of course. There are also the various townships around Mogale City that are always worth visiting. Get a taste of kasi food or a braai at Kagiso while enjoying local music and or visit Munsieville, the childhood home of Archbishop Emeritus and Nobel Peace Prize recipient Desmond Tutu which has rich struggle history. If you want fantastic Asian food, drive to Azaadville – a largely Indian suburb where Ghandi once worked to help prevent forced removals.
With so much to offer and beyond, it is understandable why nothing is more fun than a Sho't Left in Mogale this Spring. So make Mogale City your next travel destination and be spoilt for choice with a whole lot of living where life began!
Related topics: 
 Google Search:
The Cradle of Humankind (SA-venues or Safari now)
Lekker Places or Lekker Slaap – West Rand