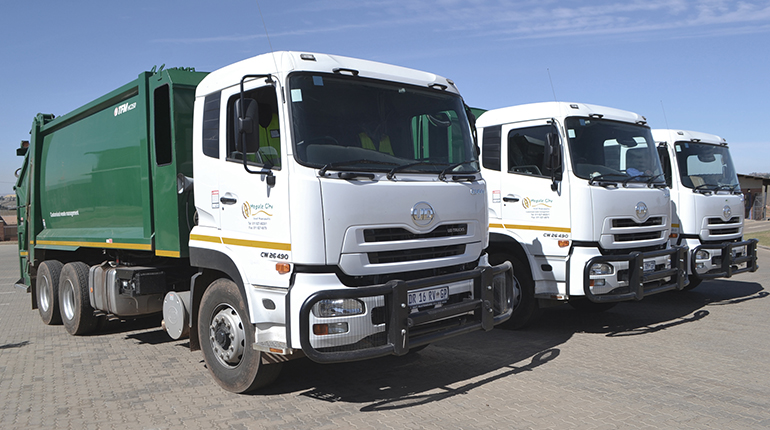 Gauteng is amongst the cities that have less than 10 years of useful landfill life left which is primarily due to high population numbers that result in the largest waste volumes. As part of its objective to creating and supporting systems that protect the environment and public health, Mogale City's Waste Management Division recently rehabilitated the old the Magaliesburg landfill site and constructed a new Magaliesburg waste transfer and recycling facility in the same area to help ease pressure on the landfill site predicament that the province is currently facing. Both projects were funded by the Municipal Infrastructure Grant.
The process to secure land and construct a new landfill site for the Magaliesburg, Tarlton and Hekpoort communities dates back to 2008 and was slowed down by dwellers that unlawfully occupied land in the vicinity of the landfill site. Ultimately, members of these communities complained about the stench and flies amongst other things.
In 2015, the Waste Management team identified land suitable for a waste transfer and recycling facility next to the cemetery in Magaliesburg. On this new site, modern waste technologies were adopted to move away from dated landfilling techniques which have proven to be ineffective and unfriendly for the environment. The newly built site is the first of its kind in the country and will operate on a different management model that will yield positive benefits for local communities. The facility will serve as a place where recyclables are sorted and sold to local buyers for use as raw material in the manufacturing of new products while non-recyclable waste will be taken to the Luipaardsvlei landfill site for disposal. This will help reduce the need for landfilling and potential degradation associated with landfills.
While the old, rehabilitated landfill will remain barrel and unused for the next 20 years, a service provider will be appointed to recruit and train locals so that they can, in the long run, manage the site as part of a bigger local job creation and economic development plan. The municipality also appeals to residents and businesses operating in Mogale City to be kind on the environment and not litter.