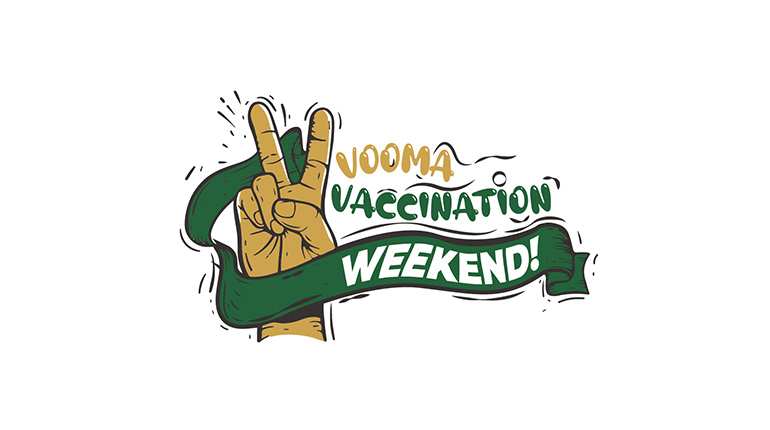 In support of the national vaccination programme, Mogale City will join the rest of the country for the Vooma Vaccination Weekend on 1 and 2 October 2021. The Vooma Vaccination Weekend initiative calls for all adults in South Africa to vaccinate to protect themselves, their families and communities before the possible fourth wave of Covid-19 infections predicted for later this year.
The goal of this vaccination drive is to achieve the set target of vaccinating 70% of the adult population by the end of December 2021 to prevent 20 000 predicted deaths that may result from the expected fourth wave. Most importantly, increased vaccination numbers will also contribute to getting the country back to normal economic activity and personal daily lives.   
The municipality therefore encourages residents who have not yet vaccinated to please make use of this opportunity. Mogale City Vooma Weekend Vaccination sites for the upcoming weekend will be as follows:
Setting

Site

Opening times

Health facilities

1 – 3 October 2021

Maki Legwete Clinic
Geba Street, Kagiso

07h30-16h00

Fanyana Nhlapo Clinic
Mmusong Avenue, Kagiso

07h30-16h00

Eric Ndeleni Clinic
Flamingo Street, Rietvallei

07h30-16h00

Tarlton Clinic

07h30-16h00

Main event

2 October 2021

Mogale Clinic
Magaliesburg Hall

07h30-16h00

Pop-up

2 – 3 October 2021

Kagiso Mall

07h30-16h00

Key West Mall

07h30-16h00

Non-medical sites

Munsieville Care for the Aged

1 – 3 October 2021
07h30-16h00

FCS Church Drive-Thru
Hinza Street, Kagiso

2 October 2021

07h30-16h00
REMEMBER: STAY SAFE, VACCINATE, PROTECT YOURSELF AND OTHERS FROM COVID-19.