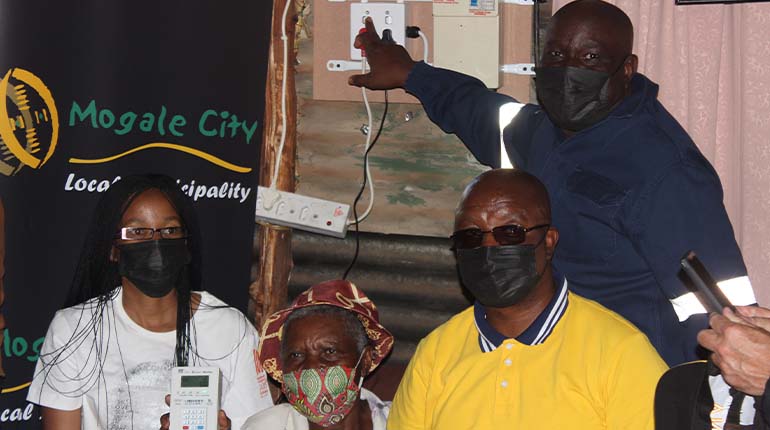 Nearly six months after the Executive Mayor, Francis Makgatho led a team of senior West Rand District Police management, Eskom and Transnet representatives to try resolve service delivery protests which included electricity in the area, the mayor returned to be a part of the Phase 1 switch on of 170 houses in the Magaliesburg informal settlement.
Welcomed with delight by residents the mayor was joined by MMC for Sports, Arts, Culture and Recreation Charmaine Ntlatlane-Nzwane, Member of Parliament Ntibi Modise, Gauteng Member of the Provincial Legislature Greg Schneemann, Mogale City's Human Settlements, Utility Management Services and Eskom representatives, as well as Ward 31 Councillor Victor Molefe, community leaders and community members.
According to the city's Human Settlements Division, the two-phased electrification project was funded by the Department of Mineral Resources and Energy with the aim of electrifying 527 houses by 15 December 2021 in the second phase of the project. This required the installation of seven transformers, four of which are energized while the remaining three will be switched on during Phase 2 of the project.
Jubilant residents who are now new Eskom customers are set to use smart prepayment split metering solution which is made up of a meter and Customer Interface Unit (CIU). According to the power utility, the new meters allow Eskom to remotely read information off the meter, detect power outages, meter tampering and to send information to the meter such as programming updates.
The electrification of the area was behind schedule due to lengthy negotiations between the municipality and the private owner. The municipality approached the Department of Agriculture, Land Reform, and Rural Development (DALRRD) to assist with land acquisition, which was supported, and the land was purchased. In 2019 the municipality managed to request letter of consent from the DALRRD and was able to proceed with a formal request for electrification budget from the Department of Mineral Resource & Energy through Eskom.