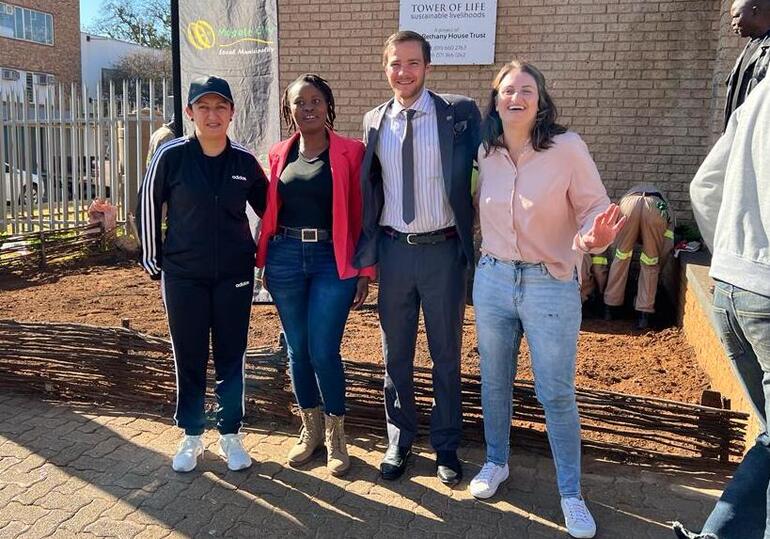 In celebration of Mandela Day 2022, Mogale City Executive Mayor Tyron Gray joined hands with the municipality's Community Development Services (CDS), Council for Debt Collectors and the South African Local Government Association Gauteng (SALGA) to contribute to immediate needs of the most vulnerable in communities.
Mayor and partners spent 67 minutes at various areas across the city, joining thousands across the country who celebrated Mandela Day by giving their time to a good cause.
At his first stop, mayor joined West Rand's Department of Health in bringing health services to homeless people with a mobile clinic stationed outside the Tower of Life Shelter in the CBD. At this appointment, free primary health care services were provided from 9h00am to 14h00pm.
And while the Mandela Day call to action remains a general call to reach out to those in need, this year CDS and the mayor focused on the challenge of child headed families that are in dire need of support.
At the second stop, the mayor and partners proceeded to the first child headed family in Tarlton. In this family of 4, an unemployed 22-year old Lerato Rankoe became the head of the household taking care of her 9-14-16 years old sisters after the family lost a mother in 2021. As a start, CDS stepped in and built a temporary two roomed shack to substitute a tiny ramshackle structure.
Speaking to a handful community members, mayor echoed the saying that goes 'It takes a village to raise a child.' "Over than that, there is very specific and unique spirit of Ubuntu that we have in South Africa and Africa in general. When we say umuntu ngumuntu ngabantu (Zulu proverb loosely meaning a person is a person through other persons), it means that our very identity is rooted in other people. It means that we must work together because it is our basic identity as people," said mayor.
Out of 20 families, partners and the municipality identified two families and prior Mandela Day efforts were made to contribute to improving their living conditions. Another family that the delegation visited is in Swanieville where two young brothers live in an RDP house under appalling conditions and with no source of income.
To alleviate poverty, both families received groceries, blankets, cups, plates pots and other home necessities and partners vowed to care for both families on a regular basis. Mandela Day was officially declared by the United Nations in November 2009, with the first UN Mandela Day held on 18 July 2010. However, other groups began celebrating Mandela Day on 18 July 2009. Embraced by young and old, Mandela Day has become a do-good-day in which many needy communities benefit from volunteers who each year, strive to do something good in honour of the late Nelson Mandela.