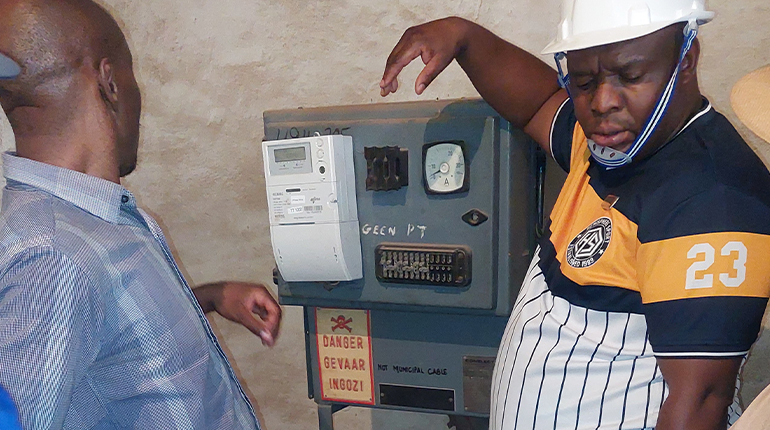 Mogale City Local Municipality (MCLM) has embarked on a rigorous campaign last week (9 November 2022) to clamp down on illegal connections to the water and electricity grid.
The crackdown, which is carried under the banner 'Mogale Ya tima', loosely translated 'Mogale switches off campaign' comes as the municipality attempts to settle its debt to Eskom and Rand Water.  The City has been at loggerheads with Eskom and Rand Water over its unpaid bills.
Currently, the municipality owes Eskom R355 million as of 28 October 2022, at this time, the City received invoices in September 2022 amounting to R38 million and is payable in October 2022. This means that the municipality is not owing Rand Water. 
The campaign led by the municipal credit control and Utilities Management Services (UMS), will target residential households and businesses that bypassed or illegally connected their water and electricity. The project will continue until indefinitely and will see municipal officials accompanied by credit control service providers in the hunt for those who have illegal connections.
The municipality visited business premises within the Krugersdorp Central Business District (CBD) and visited areas such as Chamdor Industrial area, Deportion and Lancaster Gold Mine, which is situated along the Randfontein R28 road.
During the visits, most of the business premises were found either to have bypassed their electricity or water meters. However, Member of the Mayoral Committee (MMC) Councillor Kagiso Lekagane, said the campaign is not meat to target affluent areas only. He said the campaign will also be extended to townships wherein they'll do spot checks on water connections.
The campaign, which is now one week old, has yielded positive spin offs for the municipality after companies that have since defaulted on 'rates and taxes' coming to the fore to pay the much-needed revenue.
Lekagane said so far the municipality is doing well and most of the customers who are infrequent payers have a debt of between R300 000 and R500 000, and one of the companies visited, Duvha Foundry, in Chamdor Industrial area has accumulated debt to the tune of more R11 million.
On the first day of the campaign, the municipality collected more than R1million through the cut-off spree, with R100 000 coming from Duvha Foundry, Trifon Industry coughing out R480 000 while Superfecta Trading and New Orders paying R300 000 and R235 505 respectively.